Oct 19, 2018
918
5,720
93
29
Developer :
Cyber Connect 2
Publisher : Bandai
Platform : steam
Release: 16th Jan 2020


​
The Story No One Knows:

Relive the story of Goku and other Z Fighters in DRAGON BALL Z: KAKAROT! Beyond the epic battles, experience life in the DRAGON BALL Z world as you fight, fish, eat, and train with Goku, Gohan, Vegeta and others. Explore the new areas and adventures as you advance through the story and form powerful bonds with other heroes from the DRAGON BALL Z universe.
We're also featuring original stories that will be told for the very first time, through unique sub-quests and dialogue. And some settings have even been newly created by the author Akira Toriyama.
Dragon Ball Z: Kakarot
will retell the most important events within the legendary manga/anime's lore. The main story sagas revealed for the game are the Saiyan Saga, Frieza Saga, Cell Saga, and Buu Saga.
the classic narrator for the anime can be heard reading the episode title at the start of each chapter.

Do You Want Some



The game's combat system is reminiscent of the mechanics seen in the
Dragon Ball Xenoverse
series. Each playable character will have access to basic melee combos, Ki charging/blasts, and shoulder button assisted special moves. For example, Goku's first set of unique moves are the "Kamehameha," "Scissors Paper Rock: Rock," "Body Blow" and "Meteor Smash" attacks. And as expected, you'll be able to tap into each playable character's heightened abilities via powerful transformations.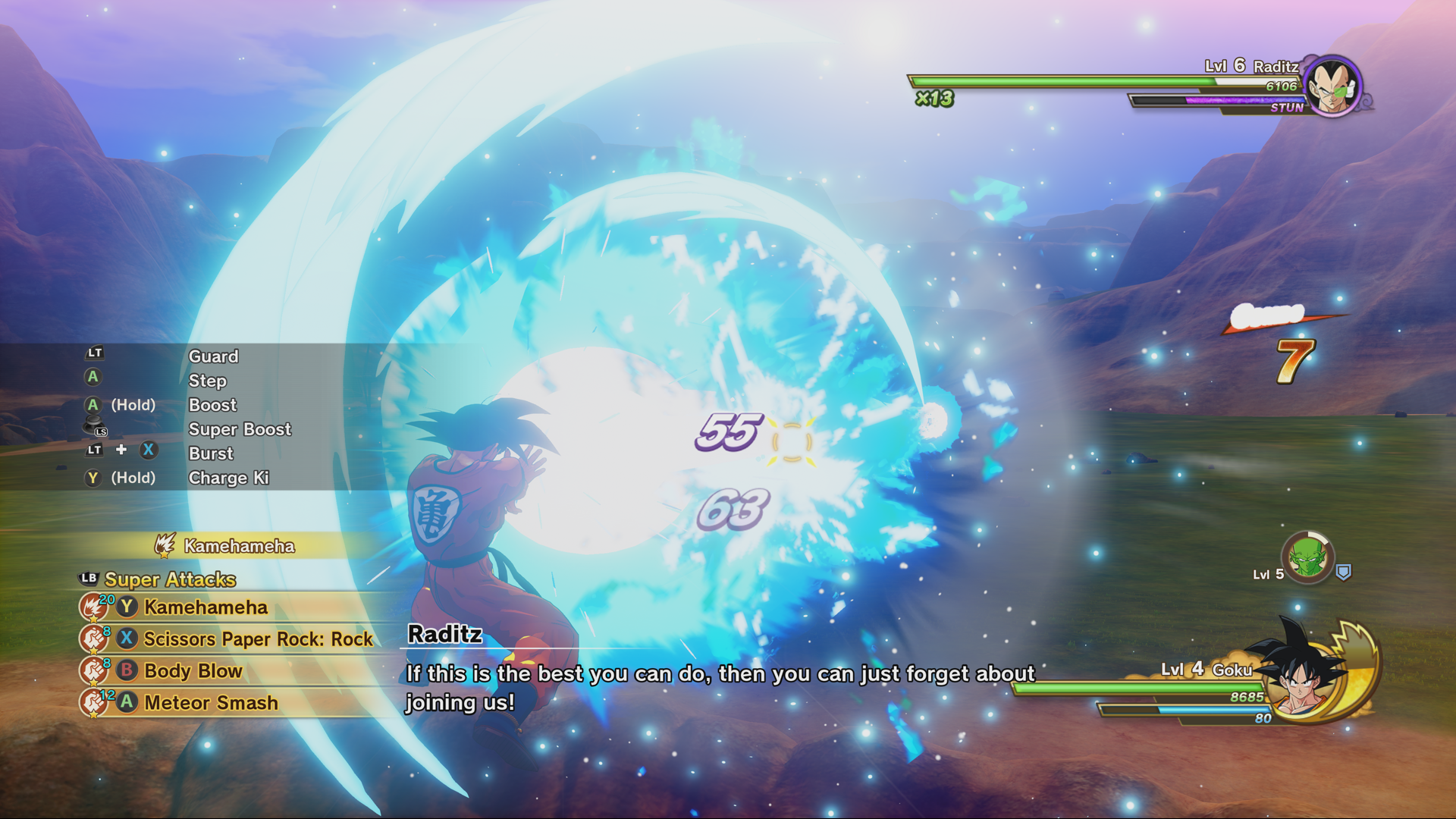 The big difference here is that the fighting system isn't being balanced with PVP in mind. It's PVE all the way, which allows CyberConnect2 to tip the scales in the opponent's favor from time to time, and have them utilize special moves that break the typical rules of combat.
Much larger scale attacks. (Unlike previous games where attacks were scaled down to fit the PVP narrative, this seems like a genuine experience of the Dragon Ball universe. Attacks such as Nappas Giant Storm is much much larger than in previous games. It gives you the overwhelming feel of being in the moment.
Playable Characters
• Goku
• Gohan (Kid, Teen, and Adult)
• Vegeta
• Piccolo
• Future Trunks
• Gotenks
• Vegito
What Else Is In Store
There are other things to do in the world of
Dragon Ball Z: Kakarot
. A fishing minigame is present, which allows Goku to catch all types of fish with the use of his Saiyan tail. You can also look forward to moving through the game's huge world while collecting the "Z Orbs" currency, killing deer to gather meat, cooking food, mining different types of ore, hunting dinosaurs, and trading goods at various retailers. Flying as high as possible into the air opens the game's world map, which gives you an overview of the many familiar locations you can travel to..
if you collect all the dragon balls you can make a wish and spawn a boss like cell for instance with hiigher buffs etc for extra challenge