It's a strange world. Let's keep it that way.
Jan 28, 2019
2,274
4,502
113
- Art by
Sean Phillips
There are more things in heaven and earth, Horatio,
Than are dreamt of in your philosophy.
- Hamlet (1.5.167-8), Hamlet to Horatio


The most merciful thing in the world, I think, is the inability of the human mind to correlate all its contents. We live on a placid island of ignorance in the midst of black seas of infinity, and it was not meant that we should voyage far. The sciences, each straining in its own direction, have hitherto harmed us little; but some day the piecing together of dissociated knowledge will open up such terrifying vistas of reality, and of our frightful position therein, that we shall either go mad from the revelation or flee from the deadly light into the peace and safety of a new dark age.
- H.P. Lovecraft, The Call of Cthulhu (1926)​
​

Alone in the Dark (1992)

Alone in the Dark: Classic Collection brings the seminal survival horror masterpieces of the 90's to your PC today.​

​

Shadow of the Comet (1993)

You'll take on the role of John T. Carter, a brilliant young astronomer, piecing together the puzzling history of the village and its cryptic inhabitants. Incredibly realistic action and supernatural chaos intertwine to draw players deep into the puzzling mysteries within the Shadow of the Comet.

[followed by Prisoner of Ice (1995)]​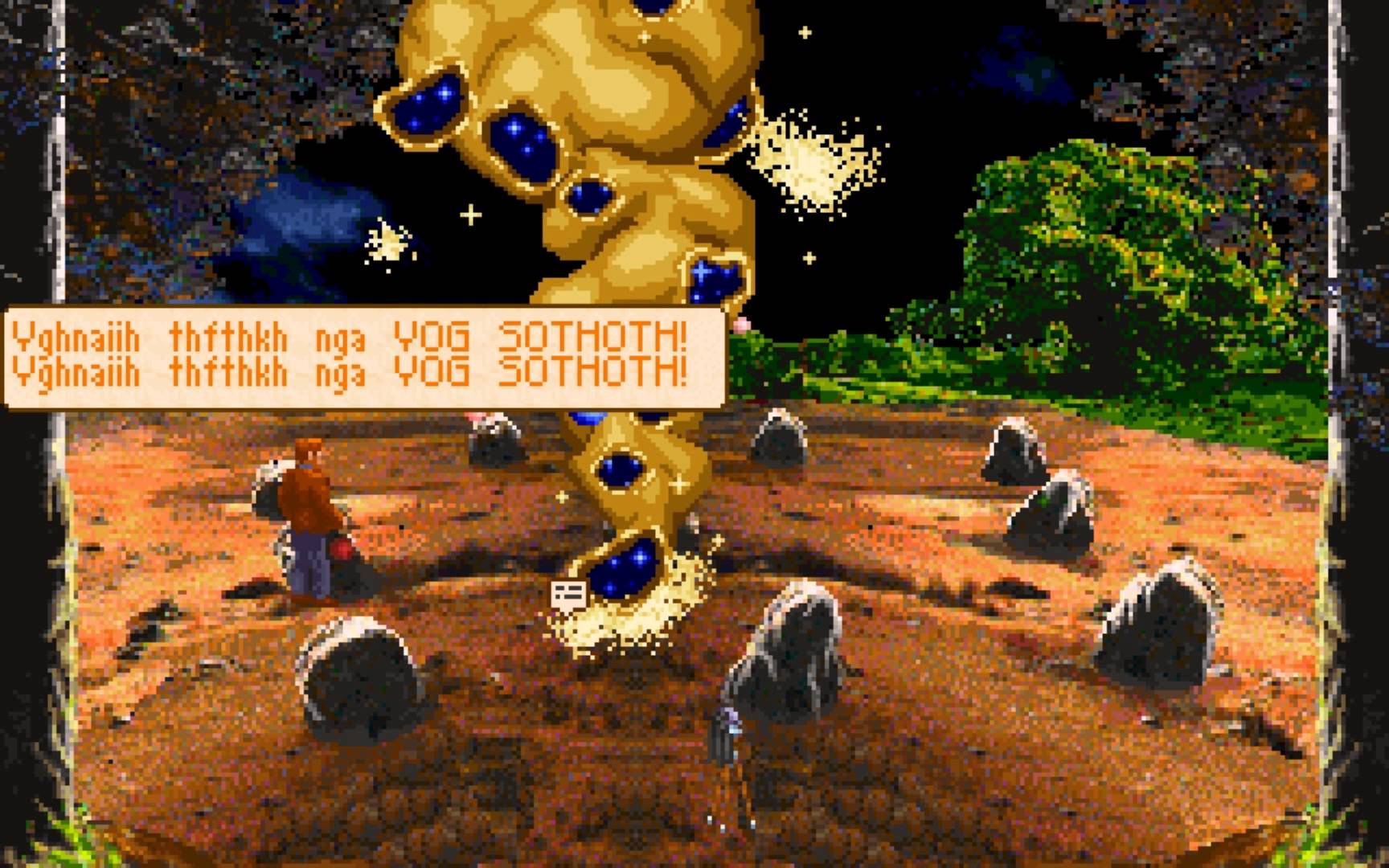 Eternal Darkness: Sanity's Requiem (2002)​

​

Saya No Uta (2003) NSFW

Bear witness to a love that will change the world, in this classic horror romance visual novel from acclaimed writer Urobuchi Gen.​

​

Call of Cthulhu: Dark Corners of the Earth (2006)

Call of Cthulhu: Dark Corners of the Earth is a first-person horror game that combines intense action and adventure elements.​

Penumbra Overture (2007)

Penumbra: Overture is a first person survival horror game, emphasizing on survival and problem solving instead of mindless violence and gore.

[followed by Penumbra Black Plague (2009)]​

Sherlock Holmes: The Awakened (2008)

The Sherlock Holmes series returns with this updated version of The Awakened, which brings a whole new dimension to the original title developed by Frogwares. The game puts the player into an investigation of the Cthulhu Mythos - as imagined by Father of modern horror, H.P. Lovecraft.​

​

Darkness Within: In Pursuit of Loath Nolder (2009)

Explore disturbing corners of the human psyche. Delve into a dimension of nightmares, the occult and a tense psychological world created in classic Lovecraftian style. As police detective Howard E. Loreid, you are tasked to solve the murder of Clark Field, a wealthy man involved in the occult.

[followed by Darkness Within 2: The Dark Lineage (2010)]​
The geometry of the place was all wrong.
One could not be sure that the sea and the ground were horizontal.
- H.P. Lovecraft, The Call of Cthulhu (1926)

​
​

Amnesia The Dark Descent (2010)

Amnesia: The Dark Descent, a first person survival horror. A game about immersion, discovery and living through a nightmare. An experience that will chill you to the core.

[followed by Amnesia A Machine for Pig (2013)]​
​
​

The Last Door (2014)

Something ancient and evil is stirring in Victorian England. Only you can stop it. Journey to the brink of madness and beyond as you set forth alone into the dark.

[followed by The Last Door season 2 (2016)]​
​
Bloodborne (2015)

Hunt your nightmares as you search for answers in the ancient city of Yharnam, now cursed with a strange endemic illness spreading through the streets like wildfire. Danger, death and madness lurk around every corner of this dark and horrific world, and you must discover its darkest secrets in order to survive.​
​
​

Darkest Dungeon (2016)

Darkest Dungeon is a challenging gothic roguelike turn-based RPG about the psychological stresses of adventuring. Recruit, train, and lead a team of flawed heroes against unimaginable horrors, stress, famine, disease, and the ever-encroaching dark. Can you keep your heroes together when all hope is lost ?​

Edge of Nowhere (2016)

Edge of Nowhere is a third-person VR adventure from acclaimed independent developer Insomniac Games. Victor Howard is on a journey to find his fiancée, Ava Thorne, who is part of a lost expedition in Antarctica. His rescue mission takes a sudden turn as he ventures deeper into a dark monstrous world where reality warps and twists around him.​

The Infectious Madness of Doctor Dekker (2017)

YOU are a psychiatrist, trying to solve a murder whilst treating the unusual patients of the recently deceased Doctor Dekker. Type a question - patients reply in full screen video and have questions for you too but be careful what you say. Your words determine their eventual fates, and your own !​

​

Conarium (2017)

Conarium is a chilling Lovecraftian game, which follows a gripping story involving four scientists and their endeavor to challenge what we normally consider to be the 'absolute' limits of nature. Inspired by H.P. Lovecraft's novella "At the Mountains of Madness", but largely set after the original story.​

​

The Shrouded Isle (2017)

Includes the Sunken Sins free DLC! Your Excellency, in this short game, we prepare for the awakening of our Lord. He hungers for human sacrifice. Sinners try to hide their dark secrets, but all must be purged...​

​

Anchorhead (2018)

You take a deep breath of salty air as the first raindrops begin to spatter the pavement, and the swollen, slate-colored clouds that blanket the sky mutter ominous portents amongst themselves over the little coastal town of Anchorhead.​

​

Cultist Simulator (2018)

Seize forbidden treasures. Summon alien gods. Feed on your disciples.Cultist Simulator is a game of apocalypse and yearning. Play as a seeker after unholy mysteries, in a 1920s-themed setting of hidden gods and secret histories.​

​

Call of Cthulhu (2018)

1924. Private Investigator Pierce is sent to look into the tragic death of the Hawkins family. Plunge into a world of creeping madness and cosmic horror. Cryptic clues, shadowy figures, and pure terror bar your way as you fight to retain your sanity and solve an otherworldly mystery.​
​
Moons of Madness (2019)

Moons of Madness is a first-person, story-driven cosmic horror game where the scientific exploration of Mars meets the supernatural dread of Lovecraft.​

The Hunter's Journals - Pale Harbour (2019)

A coastal town is overrun by horrors, and only YOU can save it!

[followed by The Hunter's Journals - Vile Philosophy and The Hunter's Journals - Blissful Ignorance]​

The Sinking City (2019)

In the 1920s, on the East Coast of the United States, the half-submerged city of Oakmont is gripped by supernatural forces. You're a private investigator, uncovering the truth of what has possessed the city and corrupted the minds of its inhabitants... and yours.​
World of Horror (2020)

Experience the quiet terror of this 1-bit love letter to Junji Ito and H.P. Lovecraft. Navigate a hellish roguelite reality with turn-based combat and unforgiving choices. Experiment with your deck of event cards to discover new forms of cosmic horror in every playthrough. The inevitable awaits...​
That is not dead which can eternal lie,
And with strange aeons even death may die
- H.P. Lovecraft, The Call of Cthulhu (1926)
---
- UNORTHODOX EXPERIENCES -
​
Deus Machina Demonbane NSFW

Darkness hangs over Arkham City. Arkham's protector, the young Hadou Ruri, is the only shield keeping the forces of the evil Black Lodge at bay. Amateur detective and former magic student Daijuuji Kurou wants nothing to do with the turmoil, but when Ruri herself shows up on his doorstep with an offer he can't refuse, Kurou is sucked back into the world of supernatural intrigue that he swore to leave behind.

[no link because NSFW, but published by JAST USA]​

Cthulhu Saves the World (2011)

The lord of insanity, Cthulhu was all set to plunge the world into insanity and destruction when his powers were sealed by a mysterious sorcerer. The only way for him to break the curse is to become a true hero. Save the world to destroy it in an epic parody RPG journey of redemption, romance, and insanity !​

Tesla vs Lovecraft (2018)

Tesla vs Lovecraft is an intense top-down twin stick arena shooter from the creators of Crimsonland and Neon Chrome. Play as the enigmatic inventor Nikola Tesla harnessing the static energy to power up Tesla-Mech and give the lovecraftian nightmares a lesson in horror !​

Fhtagn! - Tales of the Creeping Madness (2018)

Fhtagn! - Tales of the Creeping Madness is a text based adventure game, where choices matter. There's couch co-op and just a hint of betrayal. Play as one of four cultists intent on releasing the Ancient One !​

The Miskatonic (2018)

Explore the most prestigious occult school in North America, The Miskatonic University, in a hilarious dark comedy set after the Lovecraft canon, in which the greatest threat to mankind is its own ambitions.​

Gibbous - A Cthulhu Adventure (2019)

Crazy cultists. Cthulhu. A talking cat. Gibbous takes you on an expansive, traditionally animated, hand-painted adventure. Play as three protagonists and explore a lushly rendered Lovecraft-inspired world, unraveling ancient conspiracies. A comedy cosmic horror adventure made in Transylvania !​

Polynesians, motherfuckers !
- Li Kao, after reading too much H.P. Lovecraft (2020)
​
Last edited: