Michael Joseph Mignola is a comic book artist and writer most famously known for creating the highly overlooked character and series Hellboy.
He initially worked with DC and Marvel as Inker and artist, working on various titles such as
Rocket Racoon
, Phantom Stranger &
Cosmic Odyssey
.
Being in the comic book industry he would of course go to various Comic Conventions, and in a 1993 convention he drew this, and quickly thought up the name 'Hellboy'
Over the next year, the name Hellboy stuck in his mind and eventually he would rework the character and the world's greatest paranormal detective would make his major debut in 1994:
Notice I wrote 'major' not 'first'; Hellboy previously appeared in a short story published in
San Diego Comic Con Comics
#2 and on the cover of Dime Press #4 during 1993
Hellboy: Seed of Destruction, is a 4 issue mini series under the Dark Horse comics banner, and was
written
by both John Byrne and Mike Mignola with Mignola being the artist on the book, naturally.
The reason I emphasized 'written' above will be explained in due time, but for now, here's WHY I made this thread.
In the past I'd make it a habit of re-reading through Mignola's Hellboy and BPRD books. I skipped a year or two recently and now I was in the mood again to read the series, especially since this year is officially, Hellboy's 25th anniversary!
I'll be posting my impressions and thoughts on the series
as well as provide a handy reading order for any who wish to get in on this wonderful overlooked series.
One thing that'll prob. come to mind when trying to recommend Hellboy is 'what kind of character is he?' Is he a righteous know-it-all, is he as arrogant as Batman, is he whacky or zany, just how can one properly jot down his characterization and personality?
If you've watched the 2 Hellboy movies, would you be able to describe his characterization for those movies? Because I'm coming up blank.
If I were to describe Hellboy's character, it'd be that he's someone who just wants to get by, having to deal with paranormal BS while looking out for his friends and comrades. He has his anger issues and should very likely be kept away from alcohol to be on the safe side, but he'll always be there for his friends and would rather not have to deal with his origins however possible.
My first bunch of write ups will be for the first 3 or 4 books for the time being, and I want to first list down the suggested reading order for anyone who would like to get into the series.
Over the years, Hellboy and BPRD would be released in TPB formats, and the reading order for at least Hellboy can be a little confusing as there were single issue stories or one shot books released that offered more insight into Hellboy's past or further adventures that become are mentioned in later stories.
Thankfully, the recent Omnibus releases which are also available digitally manage to alleviate this, and while my read through is done via the TPBs, I'll be listing the Omnibuses to look into to get into the series.
Hellboy
Previously, one would need only read the first 5-6 Hellboy TPBs, then they could start BPRD Vol. 1. The recent Omnibuses collect the first 6 or so major story arcs alongside Hellboy-centric one-shot stories in chronological order. In general these are THE essential way to read up on Hellboy's exploits, and as such should be your starting point, so read them in this order
1-
Hellboy Omnibus Vol. 1
collects all stories up til Wake the Devil alongside The Chained Coffin and Almost Colossus.
2-
The Complete Short Stories Vol. 1 Omnibus
collects various single issue stories in chronological order. It may seem a little jarring to cut the main story at this point, but it helps to give an idea of the many crazy stuff Hellboy got into over the decades. This book also collects all of Hellboy's adventures in Mexico during the the 50s which themselves were published in TPB format as Hellboy in Mexico.
3-
Hellboy Omnibus Vol. 2
collects Conqueror Worm and Strange Places alongside a couple of other single issue stories.
After the 2nd Omnibus, you may go and read Complete Short Stories Vol. 2 which tells of Hellboy's exploits around the world up til the events of Seed of Destruction, and then go into the 3rd and 4th Omnibus collections.
As you can see all, the series is available on Comixology so keep an eye on there when there is a sale to grab them for cheap if you prefer.
Once you've finished reading Hellboy, you may go into reading the BPRD series, once again, pref. in Omnibus format
Where the Hellboy series focused primarily on Hellboy himself, BPRD sheds light on the other members of the BPRD, with a great focus on characterization and fleshing out these characters. The series follows a primary plot and manages to give each character their own spotlight.
As mentioned previously, the events of the BPRD series start following the events of Conqueror Worm.
BPRD Omnibus Vol. 1: Plague of Frogs
That's about it for a reading order, there are OTHER series related to the major Hellboy series, but these 2 are good enough to get started. In my next post I'll begin my write up, and eventually will get to write about the other books within the Hellboy series.
Post automatically merged: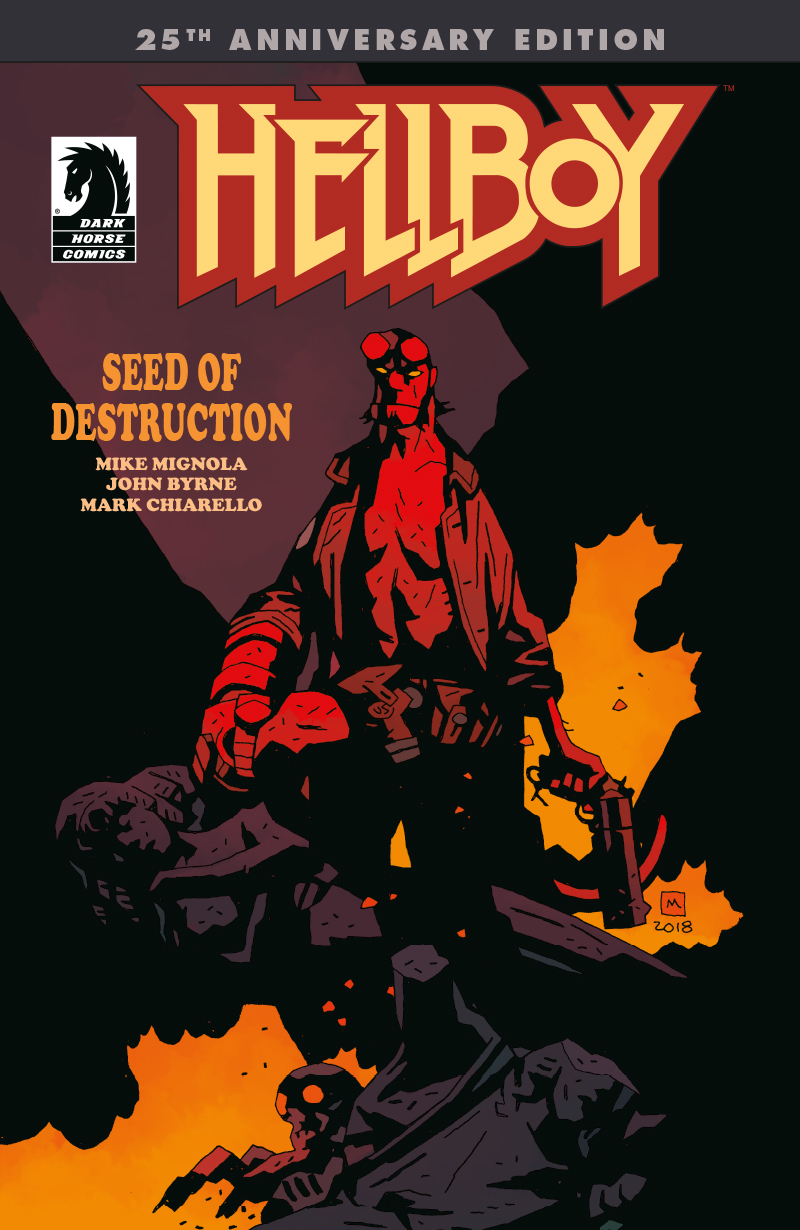 Seed of Destruction is a 4 issue miniseries written by Mike Mignola and John Byrne.
In 1944, with the help of Nazi's technology, Rasputin summons Hellboy and is found in England by a US military unit that is being accompanied by Trevor Bruttenholm, founder of the Bureau for Paranormal Research and Defense that investigates and combats the paranormal.
Fast forward 50 years later to 1994, Bruttenholm resurfaces in America after being declared lost and dead after an expedition to the Arctic. After meeting up with Hellboy the two are attacked by a humanoid frog creature which results in the death of Bruttenholm. Hellboy eventually decides to investigate his foster father's death by looking into the ancestral home of his companions from the expedition at Cavendish Hall, taking along with him BPRD agents Liz Sherman, a pyrokenetic, and Abe Sapien. Unbeknownst to them, Rasputin has also returned and awaits them at Cavendish Hall to complete what he had originally set in motion 50 years ago...
Mignola's signature artstyle is in full force here, and the colouring greatly contemplates it with strong black shades and vibrant colours to make the panels pop out.. However, the writing feels a little odd especially when compared to all the later books and stories that followed it.
The reason behind this is because John Byrne co-wrote the book with Mignola and the writing style will feel a little strange as some parts of the story are told with boxed narratations
This doesn't happen as often as in later stories as I mentioned, and it seems that Mignola wasn't too good in writing action dialog or one liners, and some lines just seem a little silly like this one
While the overall book tells a solid story, it has a problem with the characters: They all get their asses kicked and the day is saved, not by any of them but by a fortunate interference of a ghost.
Seriously, Hellboy gets thrashed around from the first issue til the finale, Liz just gets kidnapped and becomes a power source for Rasputin to achieve his goal, and all Abe does is swim into a river, gets possesed by a ghost and THAT ghost is how Rasputin is stopped.
The entire book is pretty much a modern day (well far as 90s are concerned) story about bringing out the apocalypse with Rasputin being the main character here.
You kinda wonder how this series even managed to stay relevant with this story! Thankfully the later works of Mignola with Hellboy manage to make the character and the series much better.
This may come off as a rough intro were one to re-read or re experience it, but I can still say I enjoyed it for its focused plot at least. Characterization becomes much better over the next couple of years and stories.
I should make a note of a certain character that appears early in the story, the Torch of Liberty
This character never appears again in later Mignola books far as I can recall and is in fact a character created by John Byrne and appeared in
Damage Control
, a series published by Dark Horse as well. As borth were working at Dark Horse together, they thought it'd be fun to have the character cameo in Hellboy as a sort of 'Captain America expy'. That's about all that can be said about the character. If anything I'd like to think he lived his life within the Hellboy-verse and passed away of old age, but that's just my headcanon.
Last edited: