Friendly Neighborhood Toucan
Sep 19, 2018
6,121
13,390
113
https://www.alaloth.com/


The very first isometric souls-like game ever made: instant action, fun and a unique hardcore combat system to master. Intense combat and dungeon diving granted

In-game editor to customize your character choosing different Ways of Power, classes and skills

Explore, craft, gain reputation and unlock new quests in an ever-changing world that is different in each run

Local Multiplayer & Coop up to 4 players: group with other players or fight them to get access to the final battle. The glory awaits only the bravest!

4 playable races (Humans, Elves, Dwarves, Orcs)

40+ houses and clans to fight for with their own background, alliances, intrigues. Finish the game once to start your own legacy to write your own history in The Four Kingdoms

12 memorable companions with their own backstories ready to join or fight you during your journey

World, lore and character backstories created in collaboration with RPG legend Chris Avellone, providing creative support and feedback on content design

Beware the dragons

Alaloth is a skill driven game inspired by the souls genre with a very hardcore combat system. We are putting such amazing mechanics in a brand new isometric gameplay, featuring mutilations, executions and spectaular moves in challenging fights with tons of dangerous enemies, ranging from small creatures to huge dragons. You are not going to fight against senseless waves of dumb mobs but you will have to use brain and think about the next move instead of button mashing. All your enemies could kill you if you don't pay attention.
The combat system is even hardcore the way you'll have to plan your moves in a very smart way, consindering your equipment too. It will not be possible to carry 4 or 5 different armors and the same is for weapons. Everything is strictly connected with the weight you can carry. It will be possible to bring with you a 2H sword, a 1h weapon and a shield. But probably this will not allow you to secure enought space for you healing potions, which are super rare because only Clerics have healing spells.
The same is for loot: one you have done with a fighthing area, you are going to find a chest: if you are lucky enough, you are going to find the artifact you are looking for to fight Alaloth along with so many cool objects and rich treasure. But you have to choose and you have to choose wisely because you are probably going to leave something in the chest and once you have done with the fighting area and claimed it, it will be gone forever. A permadeath option will be included but in a standard run, you can be killed by mobs and by the other champions. A grave will appear and you have to resurrect before claiming back all your stuff but be aware: it can be looted and you are going to lose everything.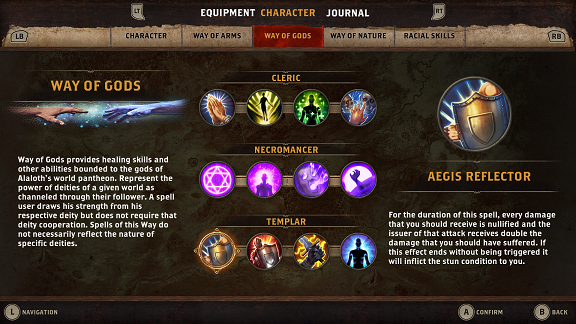 Everyone starts as a melee fighter. But you can customize your warrior choosing among three different Ways (Arms, Gods, Nature) each one with three different professions to choose from. Each profession has four skills to master, Skills have a unique cooldown so take into account that most powerful skills or spells, will need time to recharge and you will have to survive using your weapons only. There is not a default ranged attack but you have a dedicated slot for bows and once you have equipped one, you can use the skills from the Marksman profession. Spells are bound to the Way they came from. Spells from the professions in the Way of Gods (Templar, Cleric, Necromancer) use a power channeled direclty from the gods. Spells from the Way of Nature (Arcanist, Elementalist, Warden) depend on the inner power of the caster, the way the Ki works.

Set in a vibrant fantasy world, Alaloth – Champions of The Four Kingdoms offers fast paced action with a deep narrative. The game brings the aRPG dynamics to a new level with a skill based gameplay inspired by great classics and modern masterpieces in a gritty, dark, mature environment filled with blood and magic! Alaloth is set in very dark world that reminds the worst period of the middle age. The Four Kingdoms have their own backgrounds and players can adventure traveling among huge cities and small villages, looking for rest while searching the key to access the endgame area. Players can meet 12 different NPCs that could join them during the hunt, depending on the alignment of the char.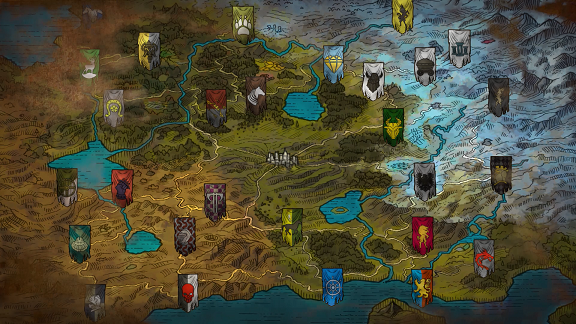 The game map comprises four vast territories.
To the northeast are the mountains named The Fangs of Kemot, home to dwarfs that inhabit this great rocky territory: Karak-Hohn.
To the northwest lies The Goldwood Forest and The Republic of Larastir with elven people keeping the secrets of gods safe.
Southeast humans brought civilization to an age of gold with a huge bay area with cities, merchants, and stuff: The Blessed Realm of Edherest.
And, finally, to the Southwest you will discover the wastelands, the Desolation of Baga, where orcs command.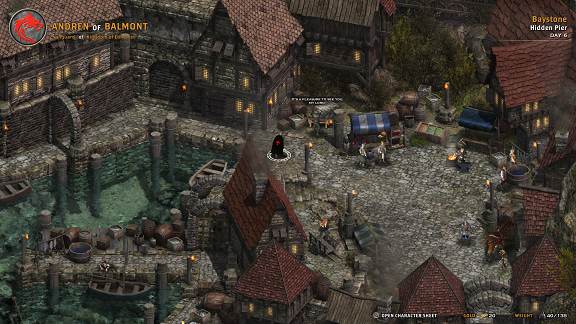 Alaloth is a beast, a dark god who turned on his pantheon and fell to the mortal realms – there, he lies imprisoned in the Valley of Storms, where the four great kingdoms of men, orcs, elves, and dwarves intersect. From the Valley's heart, he spreads evil throughout the kingdoms, determined to extinguish out any light of hope for the people of the world.
Storms, monsters, plagues, strife, and great dragons beset the land – it will require strength and courage to unite the kingdoms and defeat Alaloth in his prison.
To achieve the result of living a very vibrant world, the player will be bound to a reputation system
Players take on the roles of mighty heroes (or villains), undertaking quests, earning reputation, and gaining ancient relics and secrets that will allow them to triumph.
You can join noble houses of any race, upholding their history, their banner – and facing their enemies as well.
The challenge doesn't end after the first playthrough – with subsequent playthroughs, new game modes are activated, giving players even more options for exploring the kingdoms and customizing their characters.