Sep 19, 2018
6,370
14,030
113 Dead Cells - The rogueVania from Motion Twin.

Roguelite? Metroidvania? Roguevania!
You grew up with the roguelikes, witnessed the rise of the roguelites and even the birth of the roguelite-lites? We'd now like to present for your consideration our
RogueVania
, the illegitimate child of a modern
Roguelite
(
Rogue Legacy, Binding of Isaac, Enter the Gungeon, Spelunky,
etc.) and an old-school
MetroidVania
(
Castlevania: SotN
and its ilk).

Features:
RogueVania: The progressive exploration of an interconnected world, with the replayability of a rogue-lite and the adrenaline pumping threat of permadeath.
2D Souls-lite Action: Tough but fair combat, more than fifty weapons and spells with unique gameplay, and of course, the emergency panic roll to get you out of trouble.
Nonlinear progression: Sewers, Ossuary or Remparts? Once unlocked, special permanent abilities allow you to access new paths to reach your objective. Opt for the path that suits your current build, your play style or just your mood.
Exploration: Secret rooms, hidden passages, charming landscapes. Take a moment to stroll the towers and breath in that fresh sea mist infused air...
Interconnected levels and progressive unlocking of access to the island provides you with a real incentive to explore your surroundings. Add in a degree of evolution for your character and permanent weapon upgrades and you can see where Dead Cells borrows from the long line of
MetroidVanias
that precede it.
At the end of the day though, it's YOUR skills as a player that matter most!
Roguelites
are about constantly getting better, until what was an insurmountable obstacle becomes a walk in the park. Unforgiving combat wed to the absence of any kind of safety net makes for an adrenalin pumping ride each and every run and unrivaled replayability.

Dead Cells left Early Access on August 7th 2018 and comes with:
13 Levels - Each one with its own atmosphere, foes and secrets to discover.
4 Bosses - Made by the most sadistic of the devs, raised on the salt of the testers.
90 or so weapons and skills - Spears, swords, bows, freeze blast, etc.
4 special powers, unlocking new areas and paths (metroidvania gear lock items).
1 epic responsive, fluid and fun to play combat system.
1 Daily Run Mode Complete with leaderboards for lording it over your mates.
Hours of fun (depending on your skill, anything from 10 to 30 hours or more).
A few rage-quits, Ok a lot of rage quits… But you'll git gud… Eventually.

---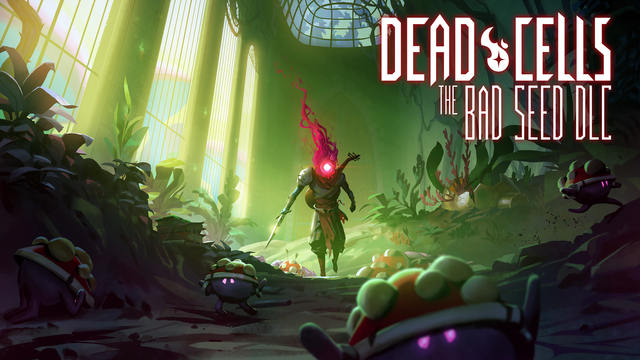 Explore a relaxing Arboretum, wade through a noxious Swamp and take on a new boss in this new early game content designed to expand the Dead Cells universe and add variety to runs for people who want to support the development of the game.
Harvest a few souls with your new scythe.
So you'll be able to play through:
The Arboretum: A relaxing and peaceful greenhouse inhabited by a peaceful clan of mushrooms, with an understandable desire to murder the Beheaded.
The Swamp: A noxious environment ruled by a band of tree dwelling mutans with pointy sticks, sneaky dart shooting frogmen and a bunch of deadly bloodsuckers.
The Heart of the Swamp: Domain of mama tick, if you've seen StarShip Troopers, you get the idea...
The two new levels and their monsters are alternatives to The Courtyard/Toxic Sewers and The Ramparts/Ossuary/Ancient Sewers, with the boss designed to be on par with The Concierge, so hopefully it'll spice up your early game runs once you've played through the core game.

Take on these nasty biting blighters.
Why Paid DLC?
We've been releasing free updates for Dead Cells for over a year now, this paid DLC is designed to support that effort, allow us to expand the game even more and ensure that Motion Twin have the time they need to make their next game one they'll be proud of and you'll be stoked to play.