Welcome! Thread is dedicated to talking about Monster Hunter World.
Game Info:
Monster Hunter World (モンスターハンター:ワールド) is your typical fantasy themed action role playing game played from a third person perspective. Just like previous games, a player takes control of a player-made character who travels to the New World. This New World is an underpopulated land mass brimming with monsters and others. The core loop of Monster Hunter is gaining loot from slaying, or capturing, monsters, gathering other resources, and completing quests for rewards. In return a hunter uses the resources obtained to craft weapon, armour, and other items. The game does allow one to solo, but the game does feature online play. Typically up to four people with an occasional different setup where groups of four take on a monster.
Release date: PS4/XBX January 26, 2018, PC August 9, 2018
What is new in MHW:
Environmental spaces that are fully connected
Advanced AI and physics
More persistent cooperative multiplayer experience
Refinement of the UI, menu system, and tutorials (to help new players to the series)
Locations
:
Astera
(アステラ) is a village in the New World. This is your main hub. Within this hub you will find a canteen, smithy, your house, gathering hub and other useful places.
Ancient Forest
(古代樹の森) is a vast forest that supports a complex ecosystem.
Coral Highlands
(陸珊瑚の台地) a mysterious ecological highland that mimics the ocean, even the ebb and flow.
Wildspire Waste
(大蟻塚の荒地) is your basic desert map, with the addition of having a swamp.
Rotten Vale
(瘴気の谷) is a poisonous and hazardous map. Bones and corpses pile up that generate toxic fumes.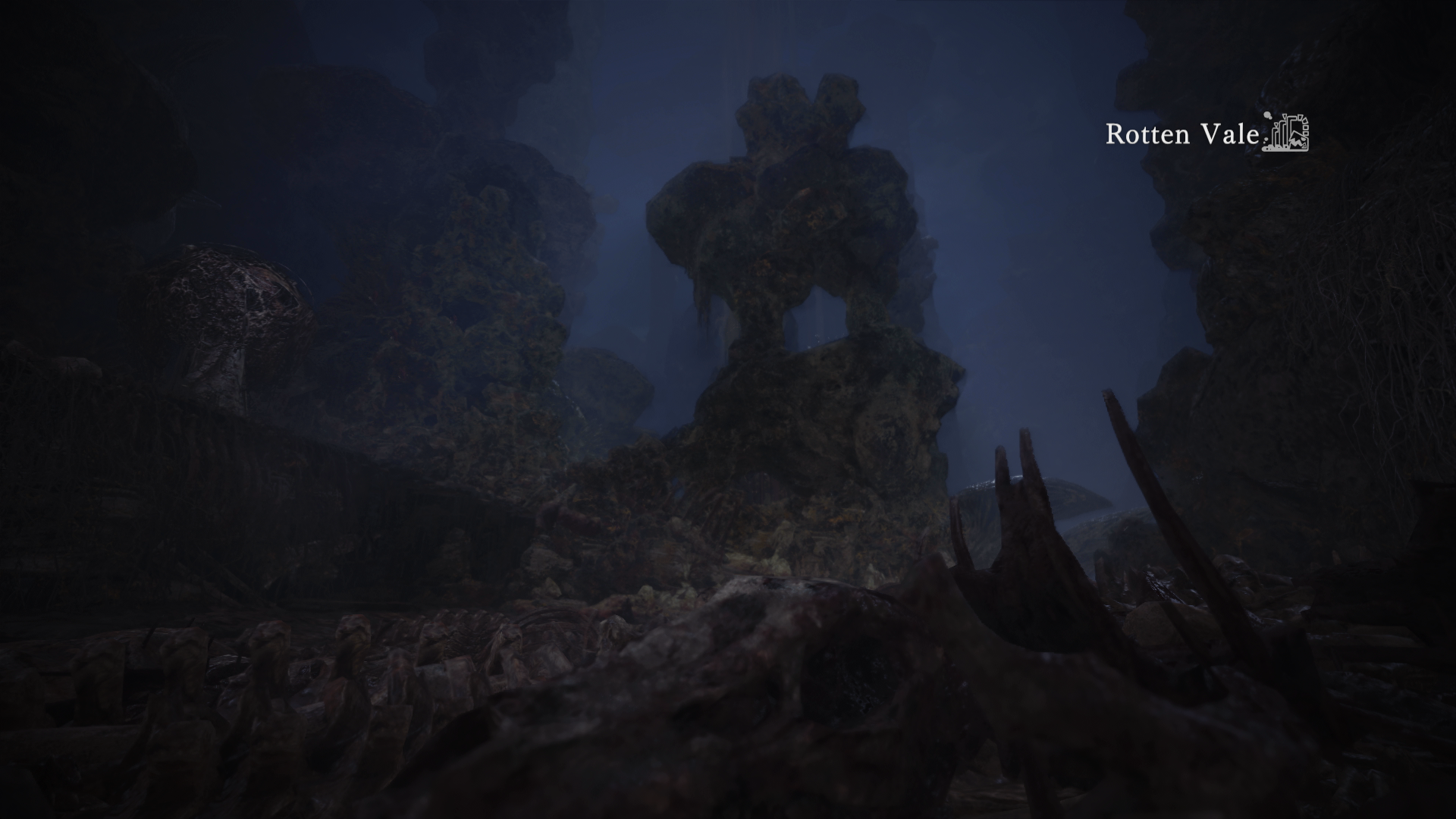 Elder's Recess
(龍結晶の地) is a volcanic map covered in crystallized bio-energy.
Other locations:
Great Ravine - First theater for a monster fight
Research Base - wrecked airship of the Third Fleet.
Confluence of Fates - Located in Elder's Recess
Everstream - Part of the theater fight
Arena - An arena to co

mplete challenge and arena quests

Special Ar

ena - An arena to fight captured monsters or to capture captured monsters again.
Caverns of El Dorado - Special multiplayer map
---
Weapons:
There are 14 types of weapons that can be crafted and upgraded.
| | |
| --- | --- |
| Great Sword: Large and powerful, but slow. | Sword & Shield: Balanced and mobile. |
| Dual Blades: Light and fast. | Long Sword: Nimble and range. |
| Hammer: Slow, heavy, and stunning attacks. | Hunting Horn: Long range musical stunning machine. |
| Lance: Strong defense and offense. | Gunlance: High Offense, limited range. |
| Switch Axe: Versatile, fast, and elemental base damage. | Charge Blade: Versatile, powerful, and fast. |
| Insect Glaive: Mobile, airborne attacks, and buffs. | Bow: Fast and ranged. |
| Light Bowgun: High mobility and rapid fire ranged weapon. | Heavy Bowgun: Slow and powerful ranged weapon. |
Slinger:
Slingers are tools and a weapon that is attached to the left armour of your hunter (guess all hunters are right handed). It resembles a small crossbow. Has two primary functions, slingshot and a grappling hook. There are 19 different ammo types you can use with a slingshot.
Armour:
Armour is what your hunter wears. This is comprised of sets, unique pieces, accessories, and decorations. Armour is also complemented by charms.
A hunter can equip five pieces of armour:
Helm

Chest

Arms

Waist

Legs
A hunter can also equip charms. Charms are like necklaces that give you bonuses, such as higher attack, earplugs or the likes.
Example:
Charm Name
Skill
Forge Materials
Level 2 Upgrade Materials
Level 3 Upgrade Materials
Attack Charm I / II / III
Attack Boost
Sturdy Bone x4
Boulder Bone x4
Lightcrystal x1
Aquacore Ore x1
Quality Bone x3
Dragonbone Relic x1
Novacrystal x1
Spiritcore Ore x1
Elder Dragon Bone x2
High Commendation x1
Brutal Bone x2
Dreamcore Ore x1
Hunters can also insert decorations into their armours to further increase bonuses. Unlike previous games you don't need to have +5 or +10 to activate the bonus. There are ranks, so Attack+3 exists.
Palicoes:
Palicoes are a feline-like combat companion. They specialize in a variety of offensive, defensive, and restorative abilities. You only get one Palico which you custimize at character creation.
The hunter can outfit the Palico with armour, weapons, amd gadgets. Gadgets are (thanks wiki):
Vigorwasp Spray: The Palico pulls out a vigorwasp and rides it towards the hunter. It then explodes, healing the hunter. When leveled up, the Palico can also deploy a stationary vigorwasp, like one found in the wild.

Acquired by: Starter Gadget.

Flashfly Cage: The Palico pulls out a cage with a flashfly in it. The hunter can then hit the cage to create a large flash. Very useful for fighting flying wyverns like Rathalos or Legiana. When leveled up, the Palico can deploy an electric shock trap. Beware, overuse of traps and flashes will cause a monster to become resistant.

Acquired by: Bugtrapper Clan Quest in Ancient Forest.

Shieldspire: The Palico pulls out a shield with a face on it. The Palico then taunts the monster into attacking it while using the shield to stay alive. The next ability of the Shieldspire is a shield bash which can stagger and stun a monster if it hits.

Acquired by: Protector Quest in Wildspire Waste.

Coral Orchestra: The Palico pulls out a Coral Instrument. The Palico then plays one of several songs that applies a buff (e.g. Attack Up, Defense Up, Bleeding Resistance, Stamina Drain Down). Upon levelling up the Palico gains access to a second instrument with some improved buffs, such as the ability to negate environmental damage from lava, giving the player the earplug effect, divine protection or stun resistance/negation.

Acquired by: Troupper Quest in Coral Highlands.

Plunderblade: The Palico pulls out a Plunderblade and snatches items from monsters (e.g. scales, fangs ...). Items snatched this way go directly to the Palico inventory and will be received at the end of the quest or expedition. Upon levelling up, the Palico is able to throw the Plunderblade. If this thrown blade hits a monster, the monster will drop an item, which may be either an appropriate scale or talon, or a slinger ammo e.g Piercing pods.

Acquired by: Plunderer Quest in Rotten Vale.

Meowlatov Cocktail: The Palico pulls out a ceramic pot and throws it at monster causing it to explode and deal damage. The upgraded version has your Palico roll around with a small cannon and shield. These attacks can easily stagger large monsters.

Acquired by: Gajalaka Quest in Elder's Recess.
Media:
Screenshots/Art:
Videos:
---
---
Iceborne:
The Iceborne expansion builds on every aspect of Monster Hunter: World, starting with an all-new story that picks up after the main game and whisks hunters away to a newly discovered chilly locale called Hoarfrost Reach. The snow-covered terrain offers an ecosystem that contrasts areas in the main game and progressively expands with the story. Iceborne is set to offer the largest region in the game so far, presenting hunters a wealth of new content with even more quests to face than in the original release.
Iceborne also introduces the new higher difficulty Master Rank, a brand-new quest tier that makes new and existing monsters more ferocious than ever. The extreme cold is also the setting for brand new frigid climate foes such as the horned brute wyvern Banbaro and the snow-buried Beotodus. These interweave with returning fan favorites such as the swift-attacking Nargacuga who adds some dangerous new tricks to his trademark move set as he joins the Monster Hunter: World lineup. Leading the pack in Iceborne is the mysterious new flagship monster Velkhana, an elder dragon with powerful ice attacks that is a pervasive threat in the new story.
To ready players to face the expansion's fierce hunts, several new gameplay options have been added to broaden the player's combat repertoire, creating opportunities for exciting new hunting strategies. The Slinger can now be used while the main weapon is drawn, regardless of weapon type. New features have also been added for the Slinger such as the Clutch Claw used to grapple onto monsters with more direct control and the Flinch Shot which unloads Slinger ammo to stun monsters. Each of the 14 weapon types will also get new combos and new elements, offering additional depth to master in combat.
New Quests:
The Iceborne Expansion continues the Storyline from Monster Hunter World, advancing the Fifth's Fleet efforts to understand the new World. A new Quest Rank, alongside a variety of new Assignment and Optional Quests are expected. Supplementary Event Quests, Optional Quests and Special Assignments are also expected.
New Locales and Monsters:
Iceborne Expansion for MHW will bring with it new Locations, with new ecosystems and Endemic Life as well as new Monsters (both large and small!). Players can expect this to result in an array of new Weapons, Armor and Specialized Tools.
New Locale: Hoarfrost Reach
New Monsters: Cortos, Banbaro, Beotodus, Nargacuga, Velkhana
It is yet unconfirmed if new Items, Decorations or Skills will be introduced with the expansion.
New Moves:
The Slinger can now be used while the main weapon is drawn, regardless of weapon type. New features have also been added for the Slinger such as the Clutch Claw used to grapple onto monsters with more direct control and the Flinch Shot which unloads Slinger ammo to stun monsters. Each of the 14 weapon types will also get new combos and new elements, offering additional depth to master in combat.
Cool Stuff:
Hunting Horn (yesss):
Gunlance:
Longsword:
Lance:
Last edited: