Oct 19, 2018
785
4,884
93
29
Developer:
id software
Publisher:
Bethesda
Release; March 20th 2020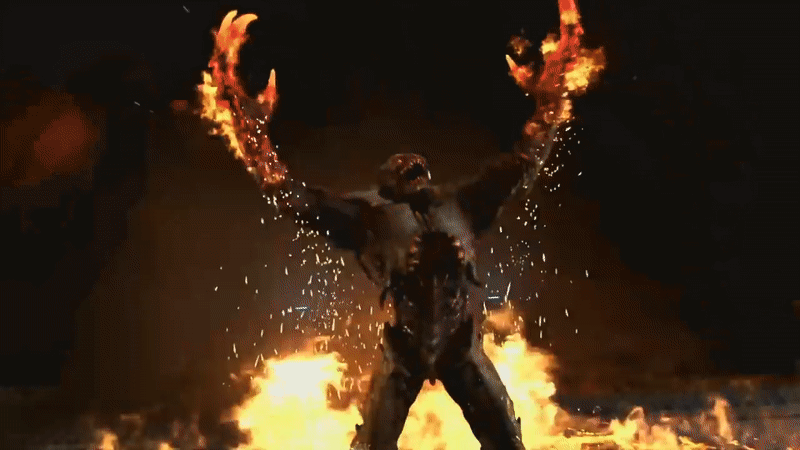 ​
Story:
Set 8 months after Doom 2016, about 60% of the Earth has been conquered by the demonic invasion. With the Earth military helpless in turning the tide of the battle and the majority of population killed during the first month of the invasion, the Arcs are created to preserve humanity and evacuate them into orbits.

Doom Slayer returns from Hell to save humanity by embarking on a quest to destroy the Hell Priests.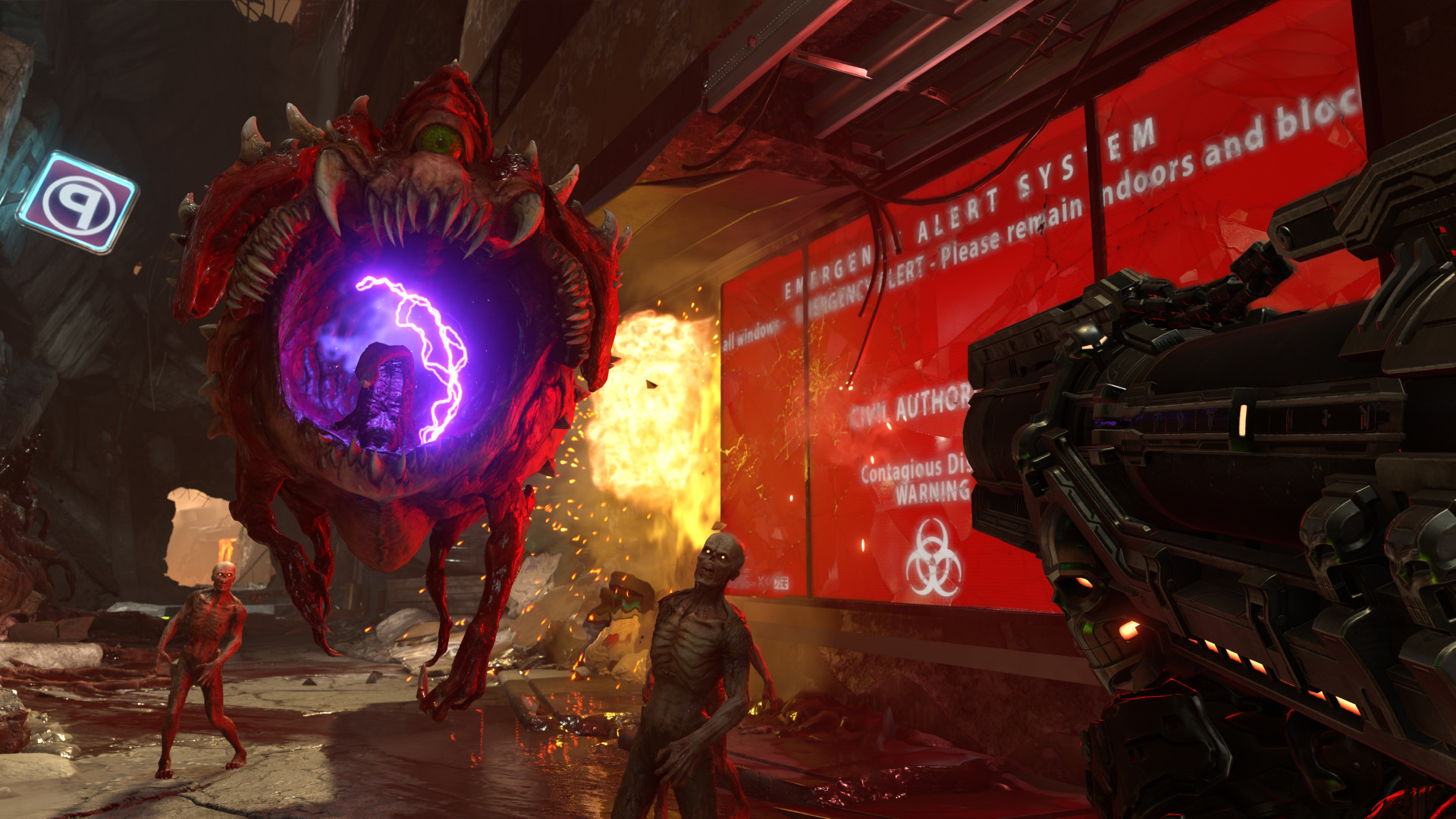 Doom Eternal will see the return of classic demons such as the Pain Elemental, Archvile and Arachnotron, alongside an array of brand-new demons like the Doom Hunter and the corrupted Marauders.
For bigger demon battles, the Doomslayer can now disable enemy weapons by targeting damage to that specific area.
New weapons include an extendable arm blade, which is located on the Doom Slayer's left arm. A shoulder-mounted equipment launcher can be fitted with explosives or fire, destroying the armor on demons before you switch to another weapon. The ballista is a powerful crossbow device that inflicts huge damage with each shot, and the crucible item that played a central role in
Doom
's story now acts as a melee weapon.
Gain access to the latest demon-killing tech with the DOOM Slayer's advanced Praetor Suit, including a shoulder-mounted flamethrower and the retractable wrist-mounted DOOM Blade. Upgraded guns and mods, such as the Super Shotgun's new distance-closing Meat Hook attachment, and abilities like the Double Dash make you faster, stronger, and more versatile than ever.
Of course, the Glory Kill system introduced in 2016's game is back. When an enemy has been sufficiently damaged, it will freeze in place and begin flashing. Pressing the melee button nearby will result in a gruesome finishing blow, and you'll get some health back for your troubles. When used in conjunction with the meat hook, you'll be able to get around and deliver plenty of Glory Kills in a hurry.
Exploration:
DOOM Eternal marks id Software's shift to the latest iteration of its in-house id Tech 7 engine. Of the many benefits this presents, one of the most transformative to gameplay is the studio's ability to draw larger, more complex worlds - and that means bigger levels to get lost in.
This additional space, however, has not only been used to expand their world outwards, but upwards and downwards as well. Combined with a range of new traversal mechanics, including wall-climbing and swinging, you'll now be exploring in all directions as you hunt down objectives, weapons, demonic hordes and secret areas.
Hell on Earth
Explore the crumbling cities of an Earth savaged by the marauding armies of Hell. Nooks and crannies of a once-familiar world litter this new wasteland, hiding puzzles, secrets and all manner of grisy creatures.
Alternate dimensions
Discover worlds and realities far beyond our own. Planets and locations which date back to the very origins of the DOOM Slayer are waiting to be uncovered, casting light on the ongoing war between damnation and mankind.
DOOM's take on Heaven
You've descended into the very depths of Hell, but have you ever seen what Heaven looks like in the DOOM universe? As you wade into a war that spans the ages, you'll have a chance to ascend to the heavens above - but who knows what wrath you might call down.
Bedroom Of Doom: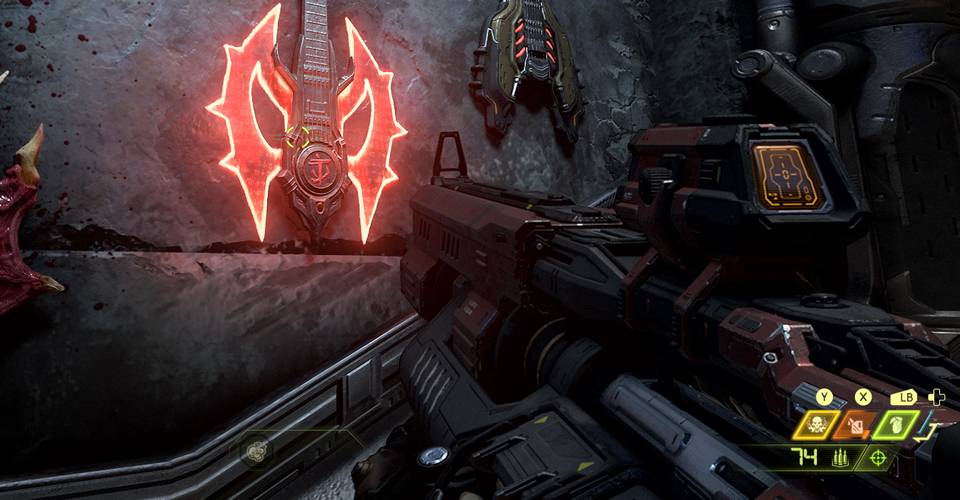 aka fortress of doom, is a new hub world you can explore.
the Fortress of Doom requires Sentinel Batteries to power up sections and unlock things. These include upgrades for one's Praetor Suit, the Demon Prison for fighting practice against different foes without fear of death and weapon unlocks. You can spot the classic Doom costume at one point as well. you can also collect vinyls and listen to classic doom music, the doom slayer also has his own bedroom with many neat things to find. the hidden areas you can unlock in this hub are similair to the krypt in mortal kombat, (note there isnt anything here u have to spend money on etc like in mk with the krypt)
Master Eternal:
Master Levels serve as remixed versions of the regular campaign levels, plopping in different compositions of enemies. You can play them on any difficulty and all of the narrative beats will still be present. However, it's possible to battle demons in the beginning levels, like Cultist Base, that you wouldn't normally fight until later in the game (like the Baron).


It's a great incentive to go back, especially with a fully kitted out Doom Slayer and push your skills. Or you could just opt for a lower difficulty and cruise through the hordes.

the master levels will be released as post release dlc for free and the first one will be released as pre order dlc

No microtransactions:

In keeping with its old-school design philosophies, Doom Eternal will not feature any microtransactions. This applies even to cosmetic items, which can instead be acquired through normal gameplay. There will be expansion packs, but these will be larger-scale purchases that add single-player content.
Can I Run It:

PC Ultra-Nightmare Specs (2160p / 60 FPS / Ultra-Nightmare Settings) OR (1440p / 120 FPS / Ultra-Nightmare Settings)
64-bit Windows 10

Intel Core i9-9900K or better, or AMD Ryzen 7 3700X or better

16GB System RAM

NVIDIA GeForce RTX 2080 Ti (11GB) or AMD Radeon VII (16GB)

50 GB hard drive space
PC Recommended Specs (1440p / 60 FPS / High Quality Settings)
64-bit Windows 10

Intel Core i7-6700K or better, or AMD Ryzen 7 1800X or better

8GB System RAM

NVIDIA GeForce GTX 1080 (8GB), RTX 2060 (6GB) or AMD Radeon RX Vega56 (8GB)

OR (1080p/ 60 FPS / High Quality Settings) NVIDIA GeForce GTX 1060 (6GB), NVIDIA GeForce 970 (4GB), AMD RX 480 (8GB) Note : On GTX 970 only - set Texture Quality to Medium

50 GB hard drive space
PC Minimum Specs (1080p / 60 FPS / Low Quality Settings)
64-bit Windows 7/64-Bit Windows 10

Intel Core i5 @ 3.3 GHz or better, or AMD Ryzen 3 @ 3.1 GHz or better

8GB System RAM

NVIDIA GeForce 1050Ti (4GB), GTX 1060 (3GB), GTX 1650 (4GB) or AMD Radeon R9 280 (3GB), AMD Radeon R9 290 (4GB) or RX 470 (4GB)

50 GB hard drive space
Note: HDR is available on PC, hardware permitting
Unlock Time:
n AU/NZ/Asia, DOOM Eternal unlocks at 7:01AM Pacific Time on March 19 (12:01AM JST March 20)

In Europe and rest-of-world, DOOM Eternal unlocks at 4:01PM Pacific Time on March 19 (12:01AM GMT March 20)

In North and South America, DOOM Eternal unlocks at 9:01PM Pacific Time on March 19 (12:01AM EDT March 20)
Doom 64
Pre Order Doom Eternal and recive a copy of doom 64, first official release on pc, doom 2016 was set after the events of doom 64 so its nice to have this avaliable in a official capaicity
Persistent players will have the opportunity to unlock a new chapter in the Doomguy's saga, taking place shortly after [Doom 64's] original campaign concludes. The Mother Demon you defeated in that outing had a sister, and since you've been messing up Hell non-stop, she tries to get rid of you by sending you away. If you can make your way back and take revenge, you'll be rewarded with a bit of lore that fans of both series, new and classic, should enjoy.

There are also plenty of other improvements and new features on the way for Doom 64 – Nightdive is promising this is the most accurate port of the game to date, easily beating various fan-driven efforts, and players will be able to enjoy the game at 1000fps or more with the right hardware


will be avaliable after launch for $4.99
Last edited: