A Kamen Rider just passing through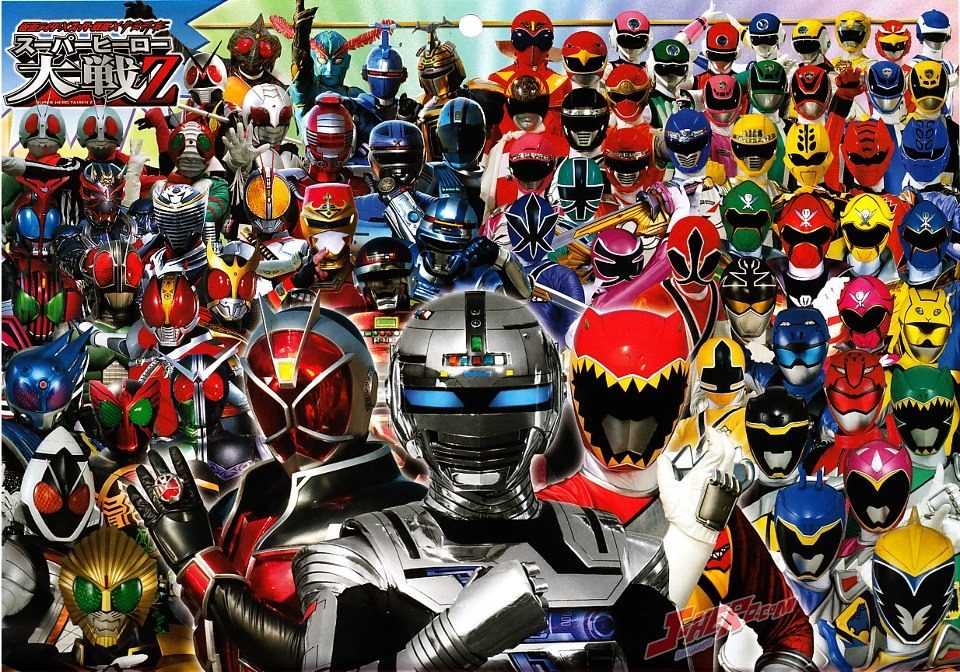 So I'm a Tokusatsu fan (Toku for short if it's easier on folks), and was hoping to get a community together, for either long time fans or news fans or even people somewhat interested in the franchise.
What is Tokusatsu?
Tokusatsu is a live action television series or asian drama that heavily uses special effects. Tokusatsu ranges from all kinds of genres but the most well known and popular are science fiction, fiction and horror. It started in early Japanese theater but was restricted to costumes and puppets, it wasn't until the 1950s where modern Tokusatsu (People in costumes fighting other costumes monsters) began to realize.
I've never seen a Tokusatsu before, what's it like?
Actually you have! Well known shows that where brought over to the USA include "Power Ranger", "Big Bad Beetleborgs", "Masked Rider", "VR Troopers", "Godzilla" and "Ultraman". Unless you where born yesterday, you'd have seen one of these at least, and are considered Tokusatsu (to give you an idea to the potential "cheese factor" of the shows"
What type of Tokusatsu shows are there?
There are different franchises, each one with a different flavor:
Kaiju
are the monster movies, Kaiju translates to "Mysterious/Strange beasts", Godzilla, Mothra, Gamera and King Kong.
Kaijin
, which translates to "Mysterious Person", involve super villains/evil as the central characters of their shows.
Super Hero
- Super Hero is a no brainer, These are series created with the guidance of
Shotaro Ishinomori
(Who you may know as the creator of Cyborg 009,009-1 and Genma Wars). However there are severeal franchises of super hero to be accustomed to:
--
Super Sentai
, which translates to "Super Taskforce" and it the most well known in the US, Super Sentai is adapted to what the US knows as "Power Rangers", each series revolves around a colorful team of warriors who protect the planet from evil. It should be noted the term "Super Sentai" was not used until the third Sentai seres "Battle Fever J", until then the series was only called "Sentai" with the titles "Himitsu Sentai Goranger (Secret Taskforce Goranger)" and "J.A.K.Q. Dengekitai" (J.A.K.Q. Blitzkrieg Squad)"
--
Kamen Rider
, which translated to "Masked Rider". It was brought over to the US with none to little success between the original "Masked Rider", a US adaption of "Kamen RIder Black RX" by Saban and later with the release for the more mature "Kamen Rider Dragon Knight" (an American adaption of "Kamen Rider Ryuki"). Kamen RIder generally had a bug theme to them until the start of the Heisei Era when they started going into other themes (Trading cards, cell phones, video games, fruit/warlord, cars, and ghosts). They are generally solo heroes and don't rely on giant mechs (Opting for the signature "Rider Kick" to finish the job), although starting in the Heisei era (minus one exception) the addition of Secondary Riders and Third Riders begin to appear as a series progresses, some series exceed these Rider numbers but are generally regulated to movie exclusive or very small minor roles (cannon fodder).
--
Metal Heroes,
Metal Heroes have several US adaptions that are not connected but are a part of the same franchise including "Big Bad Beetleborgs/Metallix" and "VR Troopers" (It should be noted "Vr Troopers" itself is a cultivation of three completely separate Metal Heroes know as "Space Sheriffs". Metal Heroes declined in popularity the most in the 80s and 90s and thus are generally regulated to films.
--
GARO,
translated as "Fanged Wolf", is a late night, for mature audiences hero based television show
--
Misc,
Shows that fall under Tokusatsu but have no franchise as large as the others are Kikaider, Kaiketsu Zubat, Android Detective and Spider-Man (YES Marvel's Spider-Man)
Thats all for now! I'll update the OP if there are any other questions that need addressing! Hope to find a lot of other fans!
ALSO NOTE:
I feel that unless discussions get jumbled that if people want to discuss Power Rangers (The US product) then doing so here should be fine. If people want a dedicated Power Ranger chat I'll whip one up.
Last edited: