Oct 19, 2018
984
6,223
93
29
Developer :
Guerrilla
Publisher:
playstation mobile
Steam
​
PC Exclusive Features
-Ultra-wide support
-Unlocked Framerates
-Dynamic Foliage (playstation version only had this when it was needed in tall grass, for pc dynamic foliage is everywhere)
-Improved Reflections
-16x Anistrophic Filtering
-Controller Mapping
- Benchmarking tool


​
A legend in the making
The story follows Aloy, an outcast of the Nora tribe. As an individual, Aloy is inquisitive, compassionate and brave. Strong and resourceful, she was raised by Rost, another outcast. She has a fascination with technology and embraces it, much to the dismay of Rost. Spurred by certain events in the game, Aloy sets out to discover her origins and the secrets of the past.
Horizon Zero Dawn
takes place in the 31st century, in a post-apocalyptic world where colossal machines dominate the land.Human civilization has regressed to tribal societies of hunters and gatherers who survive in immense forests, imposing mountain ranges, and the atmospheric ruins of their ancestors – all while the machines become increasingly powerful. The player controls Aloy, a huntress who uses her speed, cunning, and agility to stay alive and protect her tribe against the force, size, and power of the machines.
Shunned by her tribe since birth, Aloy has never known a mother's embrace or the acceptance of a community. Her only companion was Rost, the stern, impassive recluse who fostered her.
Rost taught Aloy to survive any physical hardship and to scorn comforts as weakness – but he couldn't provide the answer to the questions which troubled her above all else: who her parents were, and why she was cast out.
1,000 years in the future…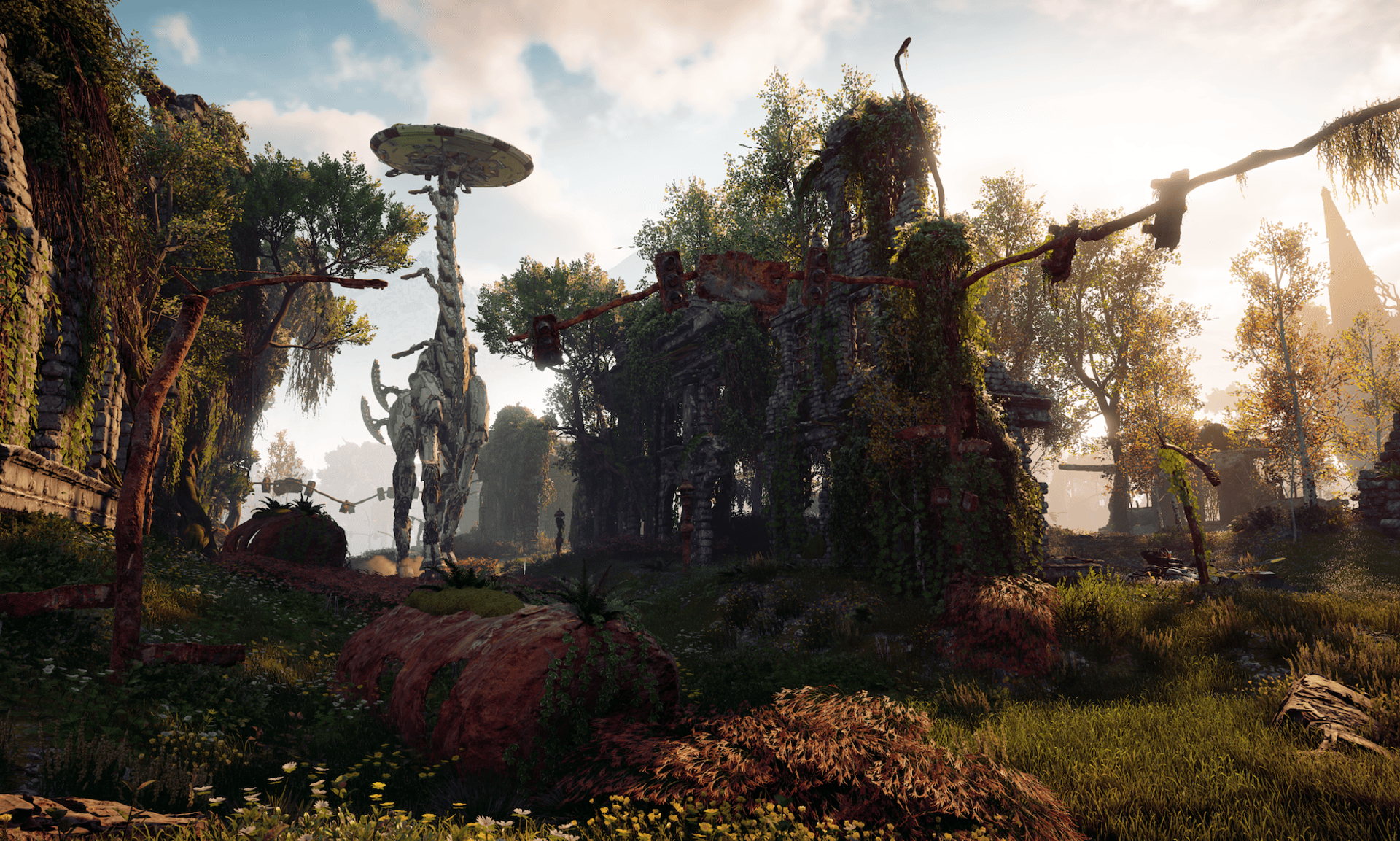 As you travel you'll discover different ecotopes, tribal settlements and Machine types, as well as the towering ruins of a forgotten era. Can you unlock the mysteries that link them together and discover the fate that befell mankind?
During your travels you will experience a full day/night cycle and dynamic weather conditions, ranging from sunny days to ominous rainstorms
A hunter at heart
The Focus is an artefact from the old world – a wearable computer and augmented reality system that you can use to:
Identify important quest-related items.
Pinpoint and highlight tracks or Machine patrol paths.
Inspect Machines, and display their individual components and elemental weaknesses.
You can craft most of the ammo and supplies you need from resources you discover in the world, or loot from downed enemies. Make sure you don't enter a battle unprepared – craft traps, arrows and pouch upgrades on the go.
Most weapon types come in three variants – Nora, Carja, and Shadow Carja. These variants affect which types of ammo the weapon can fire, and the number of modification slots available.
Weapons can have up to three modification slots to improve their existing statistics, or add new ones. Modification items such as Weapon Coils can be found as loot, or purchased from merchants.
The many outfits available to buy can be used to protect Aloy against different sources of damage. Most outfits have light, medium and heavy variants, affecting the level of protection and the number of modification slots available – the latter of which can be used to improve existing stats, or even add new ones. Modifications items such as Outfit Weaves can be found as loot, or purchased from merchants.
The Machines
The world of Horizon Zero Dawn is inhabited by Machines of all shapes and sizes. Terrifyingly alien yet strikingly familiar, these mysterious automatons combine mechanical strength with organic features and an animalistic ferocity.
Thunderjaw
The combat-class Thunderjaw is one of the deadliest Machines in Horizon Zero Dawn. A formidable beast equipped with cannons, disc launchers and a mouth laser, its powerful ranged attacks will quickly cut down any hunter foolish enough to alert it. Space permitting, it can also unleash with a devastating range of melee attacks such as charges and tail swipes.
Snapmaw
An acquisition-class Machine, the Snapmaw is frequently found basking in or near bodies of water, where it gathers valuable minerals from the sediment. It can move with surprising ferocity when alerted, lashing out with an array of melee attacks that include powerful lunge bites and tail swipes. For ranged attacks, it fires off cryo mortars that freeze the target on impact.
Stormbird
Soaring through the sky at high altitude, the fearsome Stormbird is a combat-class machine that can swoop down and attack its prey with tremendous force. It's just as dangerous on land as it is in the air, with a variety of swift and powerful attacks that range from wing blasts to claw slashes. Its enormous metal wings are also capable of collecting and discharging the electricity in the air.
Behemoth
The Behemoth is a huge, rugged transport-class machine that uses anti-gravity technology to transfer precious cargo from smaller acquisition-class machines into its stomach container. When provoked, it may charge at the enemy or use its anti-gravity unit to hurl heavy objects. It is also equipped with a set of grinding drills that allow it to pulverise and propel rock projectiles.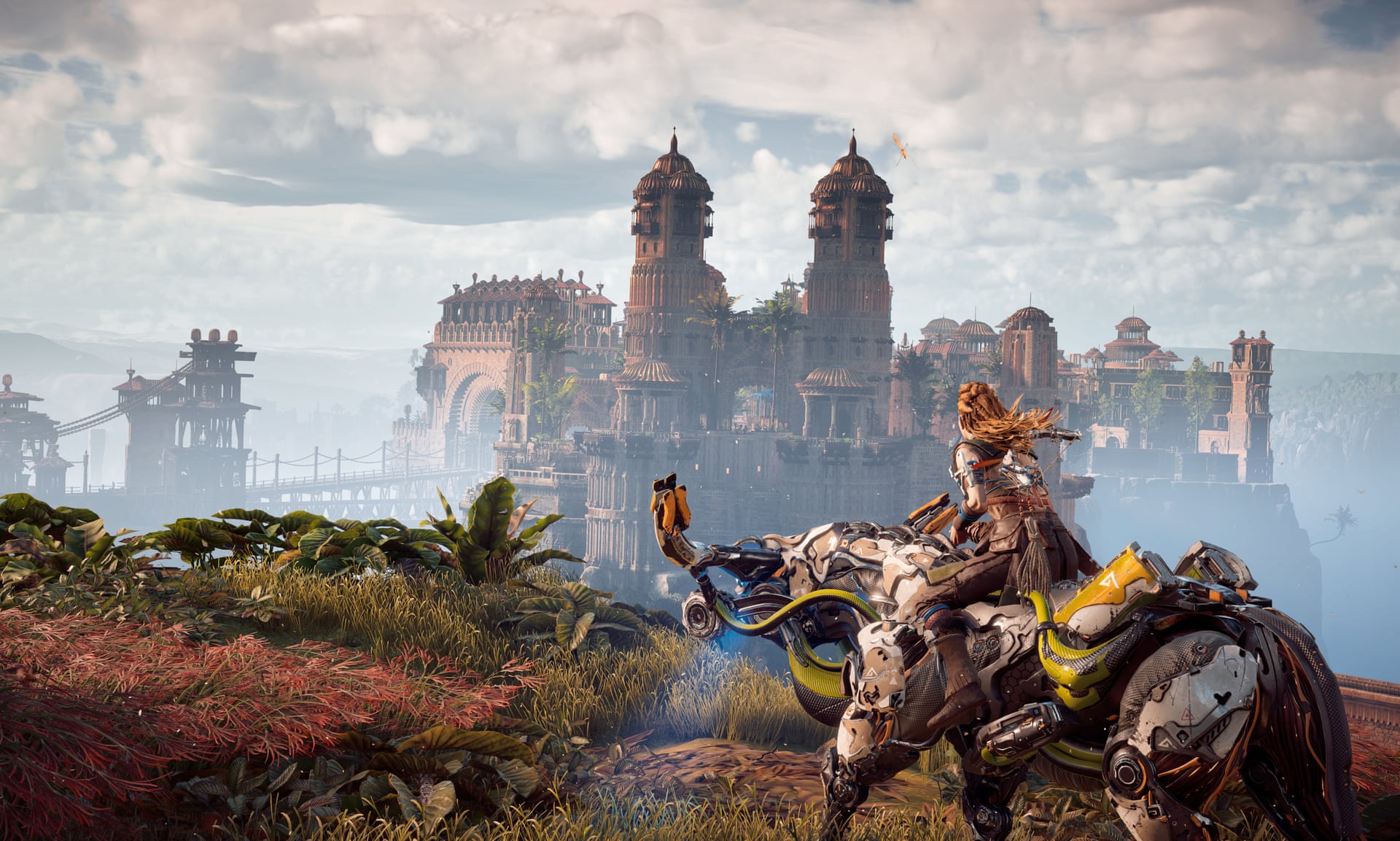 Making use of ancient technologies, Aloy gains the ability to override the systems of certain Machines and turn them into powerful allies or gain valuable information. By exploring the world and completing Cauldrons, you'll learn to override even more Machines.
But be careful – with the exception of the mountable Machines, the override effects are temporary. So make sure you use your new companions to maximum effect before the time runs out.
ive put the thread up few days early for something special planned