As per
#Senpai
's request, I opened up this thread to discuss comic books and manga series.
While there IS a Book reading thread, I feel that one is best left to traditional books, and having any manga or comic talk in here.
I personally may even start going more into reading comics starting this year over gaming (though I will aim for 52 each year!), so I'll be posting some recommendations from time to time!
If anyone wants to provide a banner, feel free to do so, as I gave up trying to find a suitable one :V
To kick things off, I find it important to understand that today it is far far FAR easier to get into comics and mangas thanks to 3 things
1- Digital Distribution
2- Phones, Tablets and iPads
3- Collected editions of series make it easier to read through a series in a (preferred) chronological order
I'd say just about ANY tablet or iPad is great for reading comics. I've got both an iPad pro and a Galaxy Tab E and both are fine for reading comics and mangas digitally (Andoird tablets get the benefit of bigger 'Hard disk space and some websites offer drm-free downloads so you can have them on your device if you don't want to use bandwidth).
Find yourself a suitable device (screen protect it), and sit back and enjoy reading through some great series of the past 60+ years!
Comixology.com is a great source of getting comics, and even has various manga series. Sadly it is region locked so some series won't appear in all regions =_= Non the less, it still offers hundreds of classic and wonderful series to look into.
There are also
Viz media
,
Crunchyroll
& Humblebundle who offer manga series and comics as well.
Webcomics have also started selling collected editions, which is a boon for me since I don't want to waste my phone bandwidth on 300+ pages of images :V
Here're some noteworthy webcomics I've come across over the years
Kill 6 billion demons
Unsounded
Cucumber Quest
Ava's demon
Scurry
The Abominable Charles Christopher
Lackadaisy Cats
Gunnerkrigg Court
(Yes this series is STILL ongoing 5+ years later woof)
Spinnerrette
JL8
If collected editions aren't sold on their website proper, then you can just google them :X
On my end I've lately been reading Usagi Yojimbo
Usagi Yojimbo
is a comic series that debuted in 1984, starting the titular character & created by Stan Sakai.
Stan once drew a rabbit and had its ears tied up like a samurai's topknot and from there he would go on to create the adventures of Usagi Miyamoto, a wandering ronin in a cartoony fudeul japan inhabited by anthropomorphic animals (with a scant few human looking characters).
The series in general isn't by any means grand and many of the stories are actually quite simple. However, Stan's writing and art just manages to pull you in and keep you entertained throughout.
If anything the series falls under Young Adult as there is A LOT of death going, from random thugs assault Usagi to the myraid of other characters dying in a battle or skirmish.
Usagi's been around for 35 years and Stan has received many awards over the years for his work thanfully.
If you want something simple to get into and read, Usagi Yojimbo is as good as any series to go with.
It should be noted that the series was picked up by Dark Horse during the 90s, before that the series was published through Fantagraphics IIRC. Usagi's journey begins in the TPB Ronin or in the Usagi Yojimo Special Edition Omnibus, which collects the first dozens of stories Stan wrote from the 80s.
Usagi Yojimbo: Special Edition - Comics by comiXology
Following that, Usagi's adventures are collected in the Usagi Yojimbo Saga books which continue from the end of the above book at least (Why Dark Horse didn't label the above book as 'Volume 0' is beyond me as even I was confused when I read Saga Vol. 1 and it would be continuing an earlier story!)
Usagi Yojimbo Saga Vol. 1 - Comics by comiXology
There are a bunch of other special Usagi books such as Space Usagi and even a book collecting his crossovers with the Ninja Turtles! Yes this is in fact THAT same rabbit that appeared in a few Ninja Turtles episodes over the decades. Why he hasn't received his own animated features is anyone's guess!
Another title I learned about recently is Cellis, this too is a very light and simple series
Cellies Vol. 1 - Comics by comiXology
Cellies follows the lives of a handful of young men and women working at a phone shop and is a more down to earth series about character relationships and the wacky shenanigans they get themselves into.
Far as Marvel and DC go, consider giving Immortal Hulk a read, it is the current book focusing on the emerald giant
Immortal Hulk Vol. 1: Or Is He Both? - Comics by comiXology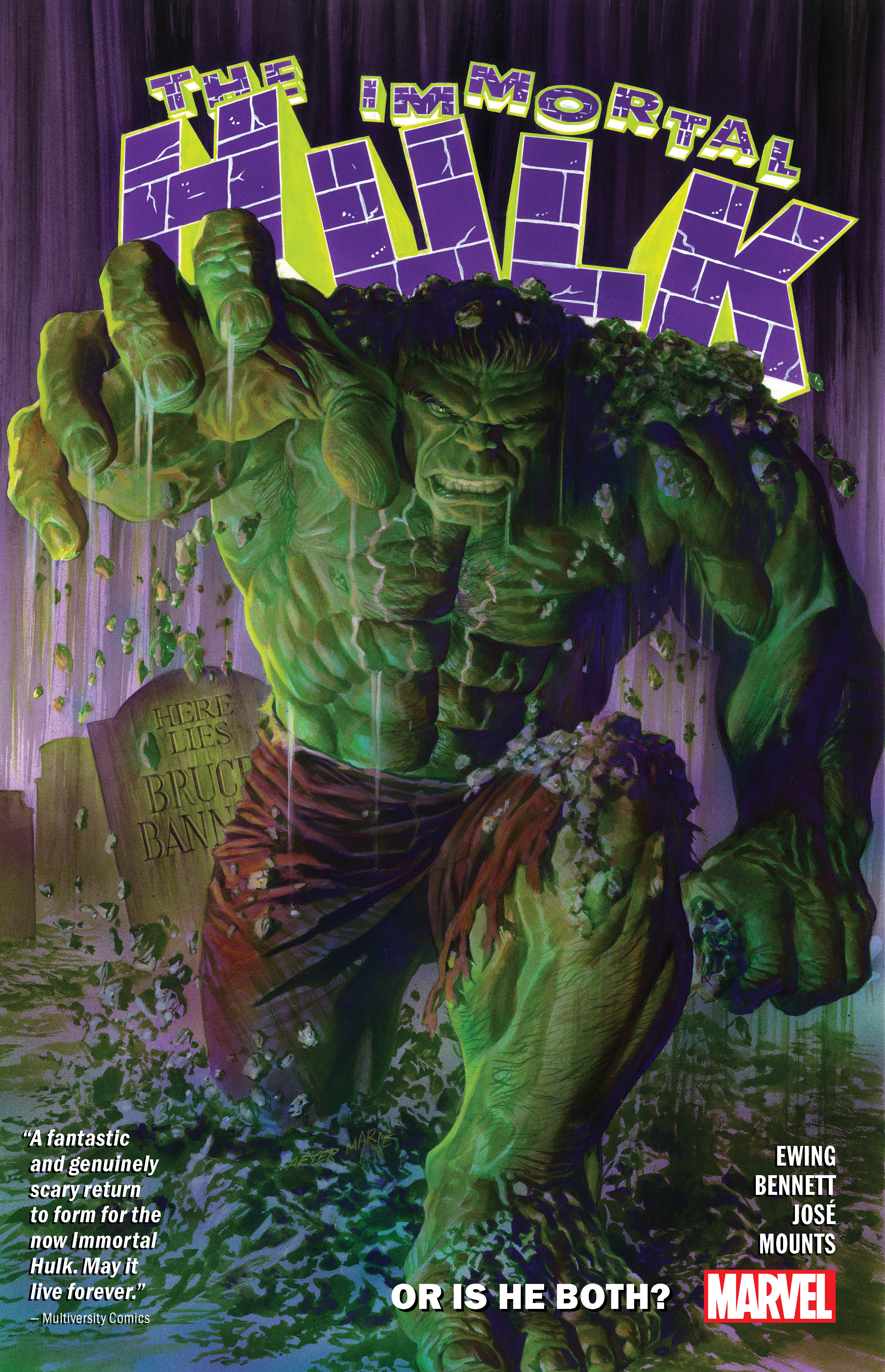 Mind you I've been out of Marvel and DC for near 5 years reading a scarce number of titles from them :V
In a prior series, Bruce Banner is killed (again) and the Hulk is thought to have been destroyed for good.
But of course, that's just wishful thinking. Now Bruce Banner is alive and the Hulk takes over at night once again.
The series takes a more 'horror' approach to its stories as the Hulk just roams around the US and finding himself dealing with myraid of situations
DC has Grant Morrison on Green Lantern, so if you want your dose of Morrison crack (and don't mind Hal Jordan as GL), keep an eye out for the TPB.
Bendis has been the author on Superman books lately and I find he has been doing a good job, esp. as the current Supes is a Superdad now.
Bendis' Superman starts with Man of Steel then continues onto his Superman and Action Comics run
The Man of Steel (2018) - Comics by comiXology
Superman (2018-) Vol. 1: The Unity Saga: Phantom Earth - Comics by comiXology
Superman - Action Comics (2016-) Vol. 1: Invisible Mafia - Comics by comiXology